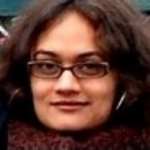 United States
Joslin Diabetes Center,
Harvard Medical School.
Deepti Navaratna
Address:
1 Joslin Place,
Boston, MA,
United States.
Research Interests:
Cerebrovascular dysfunction in brain and retina, Vascular complications, Neuron-endothelial crosstalk
Biography:
I am a vascular cell biologist interested in studying endothelial-neuron crosstalk in the brain.
Education:
Master of Science, Bangalore University, India 2000-2002
Doctor of Philosophy, School of Medicine, University of New Mexico, USA 2002-2008
Post-doctoral Research Fellow, Massachusetts General Hospital, USA 2008-2012
Experience:
Navika- Neuroscientist - Research Associate - Joslin Diabetes Center Inc.